This is one of the best-known adages in the English language. Its origins date back to the 19th century when bar owners in the United States offered "free" lunches to patrons. Of course the cost of the lunch was calculated into the elevated price of drinks. And innkeepers made sure it always a fatty, salty meal to encourage patrons to drink more.
Free is a loaded word, and never more so when it comes to the delivery of goods. Everyone from Amazon to the corner store uses the words FREE DELIVERY to attract customers. You may not actually pay for delivery as a separate item but you can be sure that the merchant has calculated the cost of delivery into the price of the book or groceries or whatever else is being delivered.
On-line wine merchants worldwide have traditionally made a separate charge for delivery. It's the most honest and transparent way of doing business; you can see how much the wine costs and how much it costs to deliver it to your door. But "free" and "discount" are increasingly talismanic words in the wine business and woe to the merchant who doesn't use them.
We have fallen in with the trend and you'll find the words FREE DELIVERY splashed across our website. Not all deliveries are gratis but if you buy 12 bottles or more or spend 500 zl with us there'll be no additional charge for delivery. Even if you are just buying a bottle or two, the small amount we charge for delivery will still make the purchase cheaper than if you drove your own car to the nearest shop or supermarket.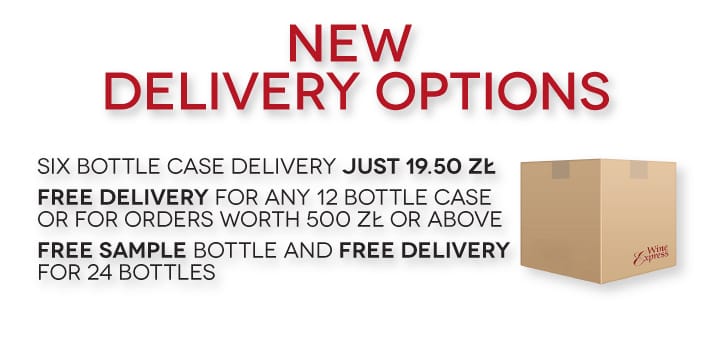 Our prices are amongst the most competitive in the on-line wine business in Poland and considerably below what you could expect to pay for our wines – or those of our competitors – in any retail outlet.
But there simply ain't no such thing as a free lunch.
For the record, our delivery policy is thus:
1-5 bottles – 35 zl
6-11 bottle case – 19.50 zl
12-bottle case or any orders over 500 zl FREE of charge
24-bottle orders – FREE delivery PLUS a complimentary tasting bottle.
John Borrell